Dominate SEO & Crush Super Dentists
Maybe you've been thinking about hiring Nuvolum and believe we are the only ones that can make you demonstrably superior to your competitors without a big ad spend… and you're right! 
After 27 years in healthcare and 14 years in OMS, I have a clear understanding of what it takes to be successful.
Take a look at these screenshots. Utah is arguably the most competitive thirds market anywhere. See the SEO results for Utah Surgical Arts below:
Provo location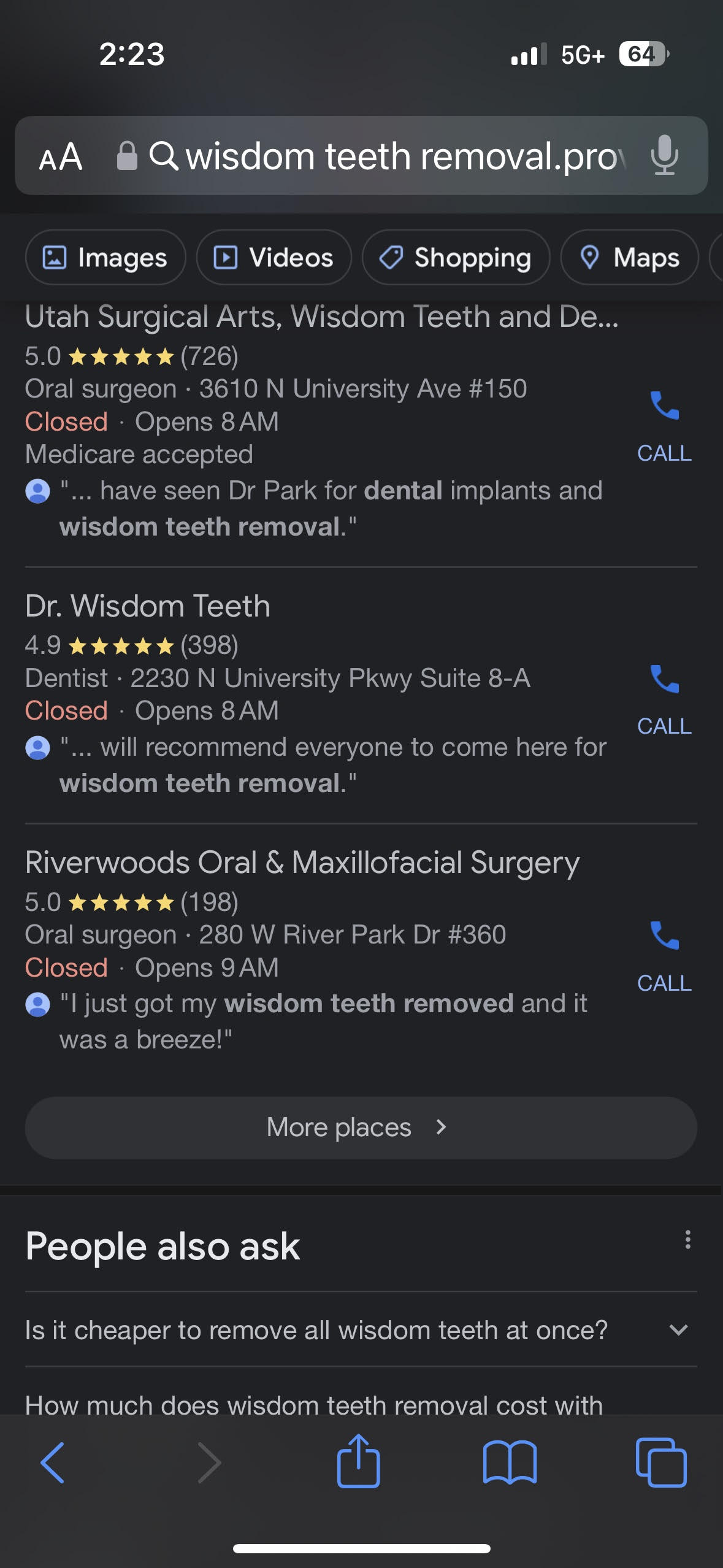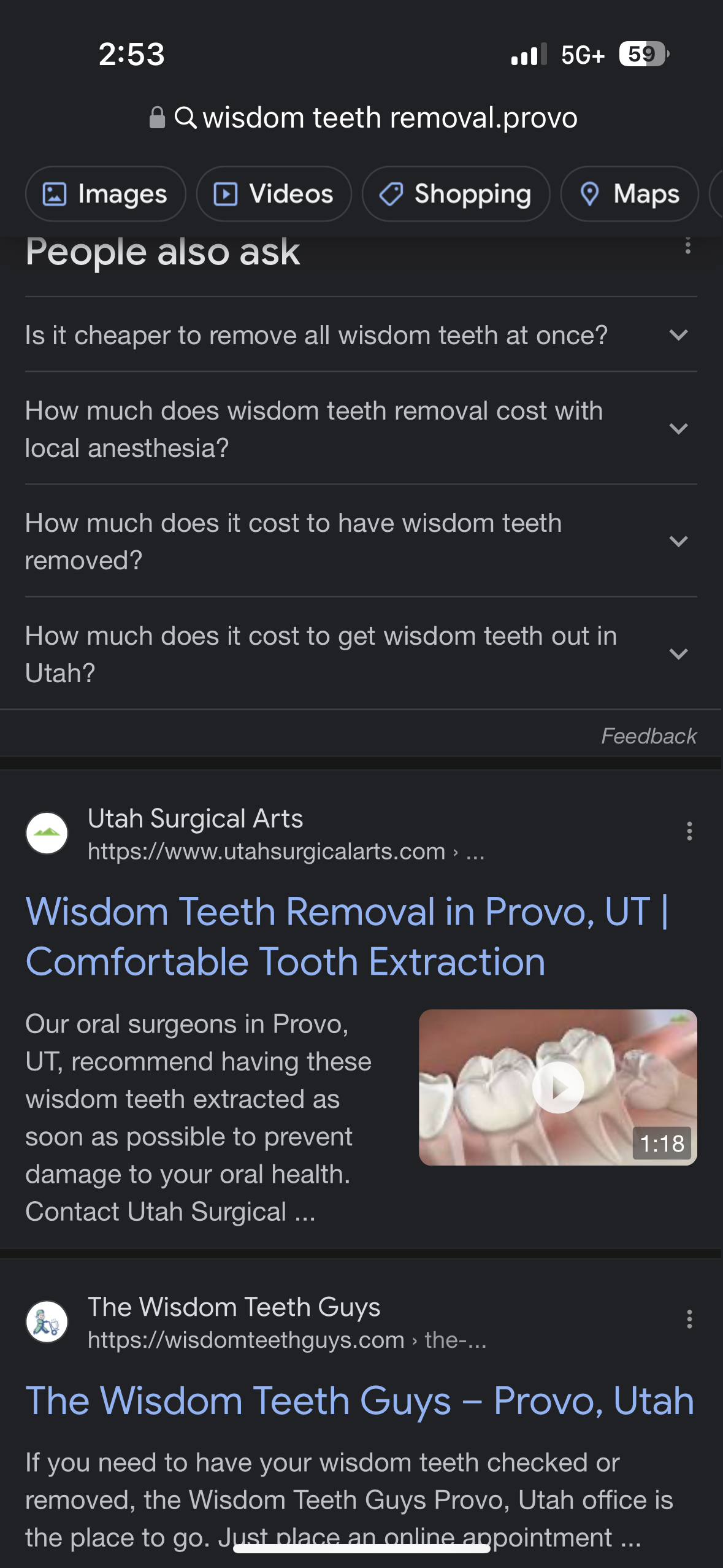 They have two primary competitors that aren't OMS practices—they are general dentists that have Wisdom Teeth Only practices: Dr. Wisdom Teeth and The Wisdom Teeth Guys. 
This is our 10th year of battling Dr. Wisdom Teeth, and The Wisdom Teeth Guys showed up almost 7 years ago. We have held dominant search positions because Utah Surgical Arts has better assets and better marketing.
We have been able to save them hundreds of thousands of dollars in pay per click budgets over the years, and I have the data to prove it. 
Here it is where we just use the search term "Wisdom Teeth Provo."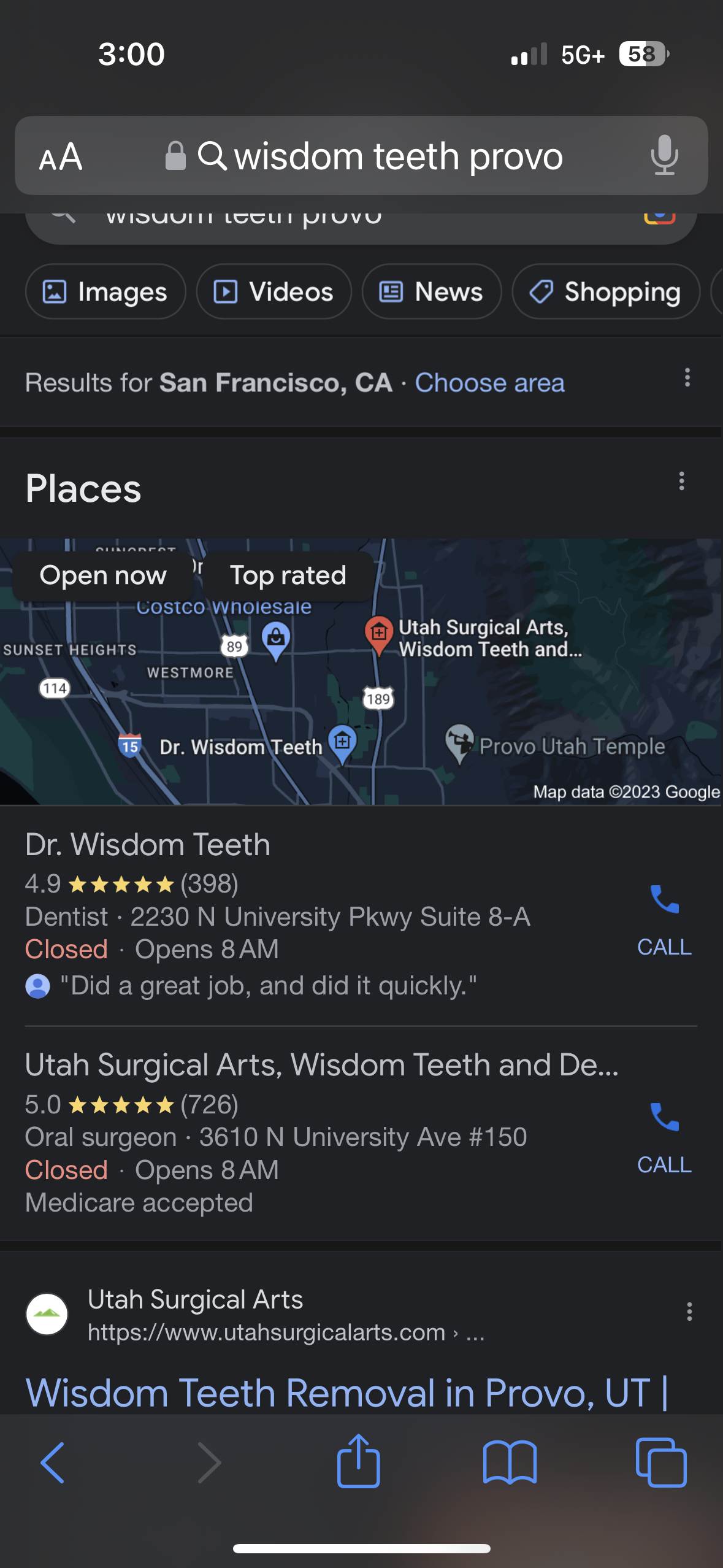 We have held the dominant position and kept the top competitors who have focused on cheap pricing as their primary driver at bay for 10 years. 
Here is the second location Utah Surgical Arts opened in South Jordan.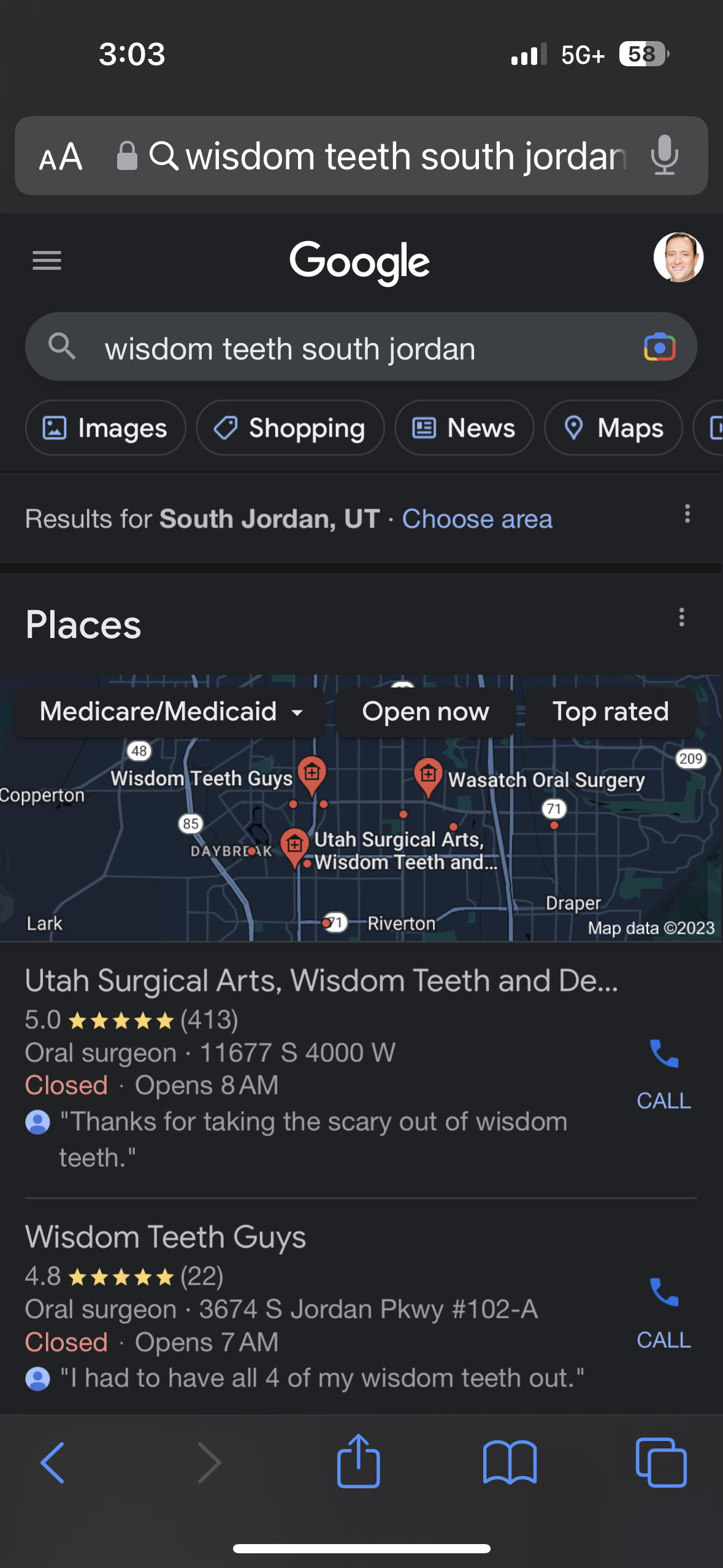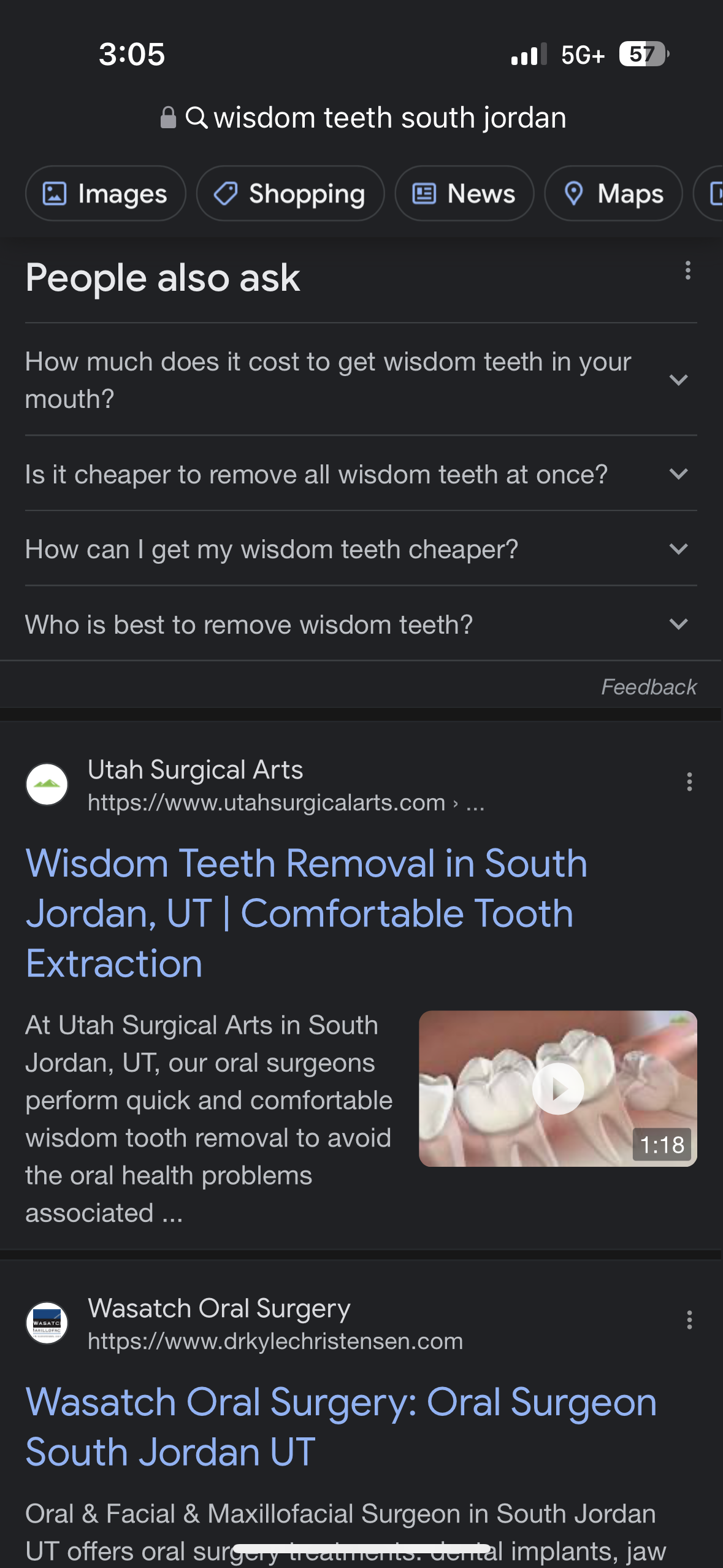 Here, their primary competition are other oral surgeons who were operating long before they entered that space. We made them competitive immediately, and then they added another location in Lehi two years ago. 
Here is the Lehi market.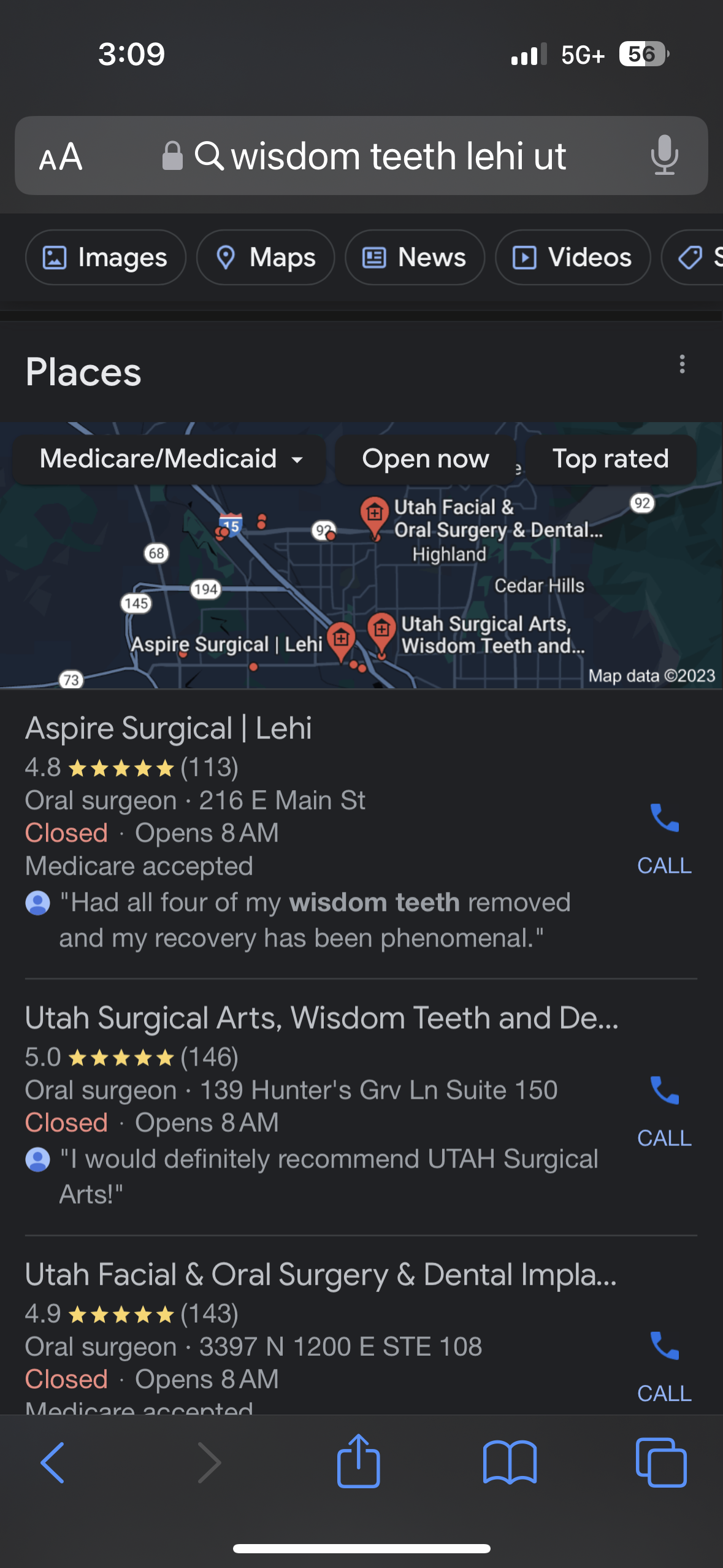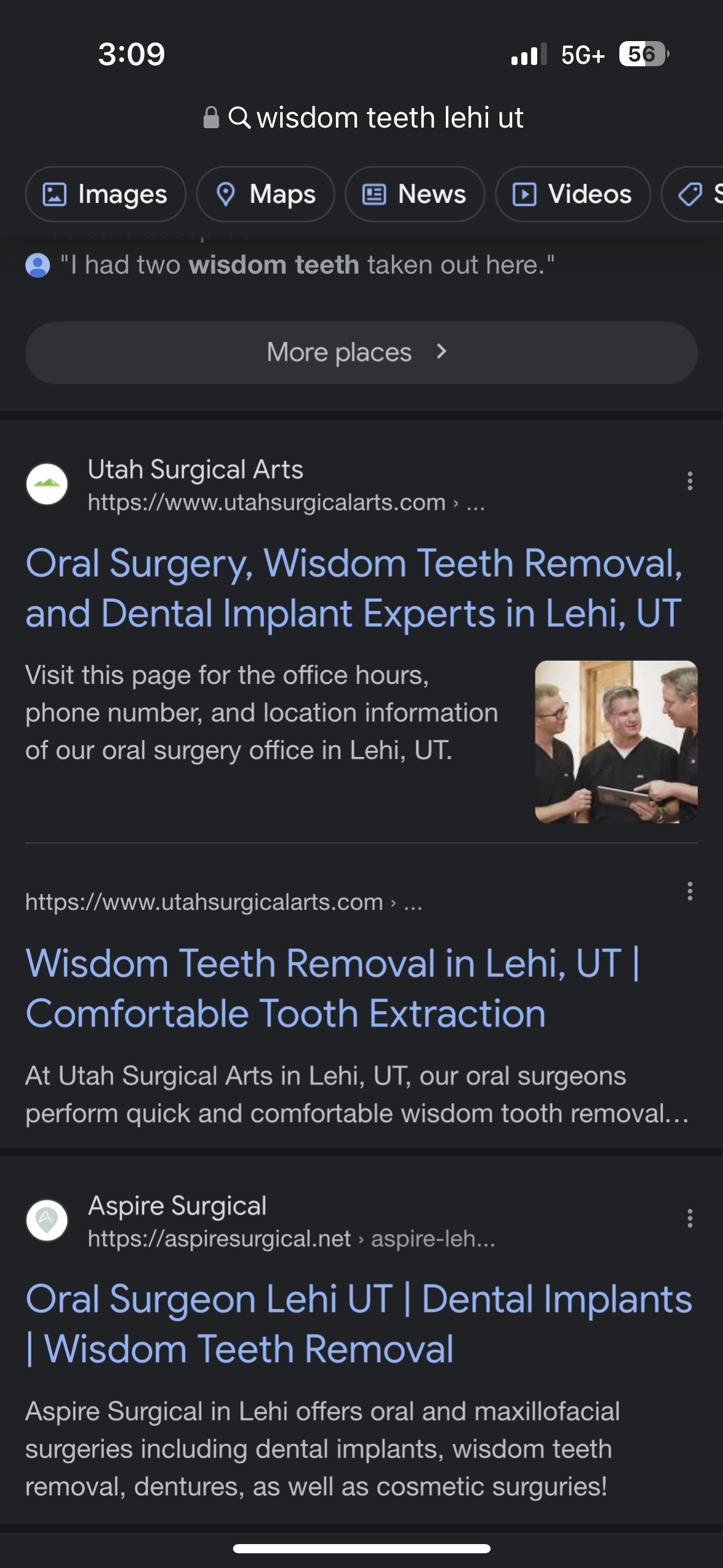 Once again we made them market competitive in a very short period of time against a field of competitors that are in it to win it! 
How? They had the right assets in place and the reviews strategy that made it possible to win. 
They have gone from 2 to 6 surgeons simply because they followed our formula. We know how to battle in the most difficult markets and we don't have anywhere near the advertising budget that many OMSs have allocated. 
So I know what it takes to win!
Think Utah Surgical Arts is a fluke? Let's look at San Diego: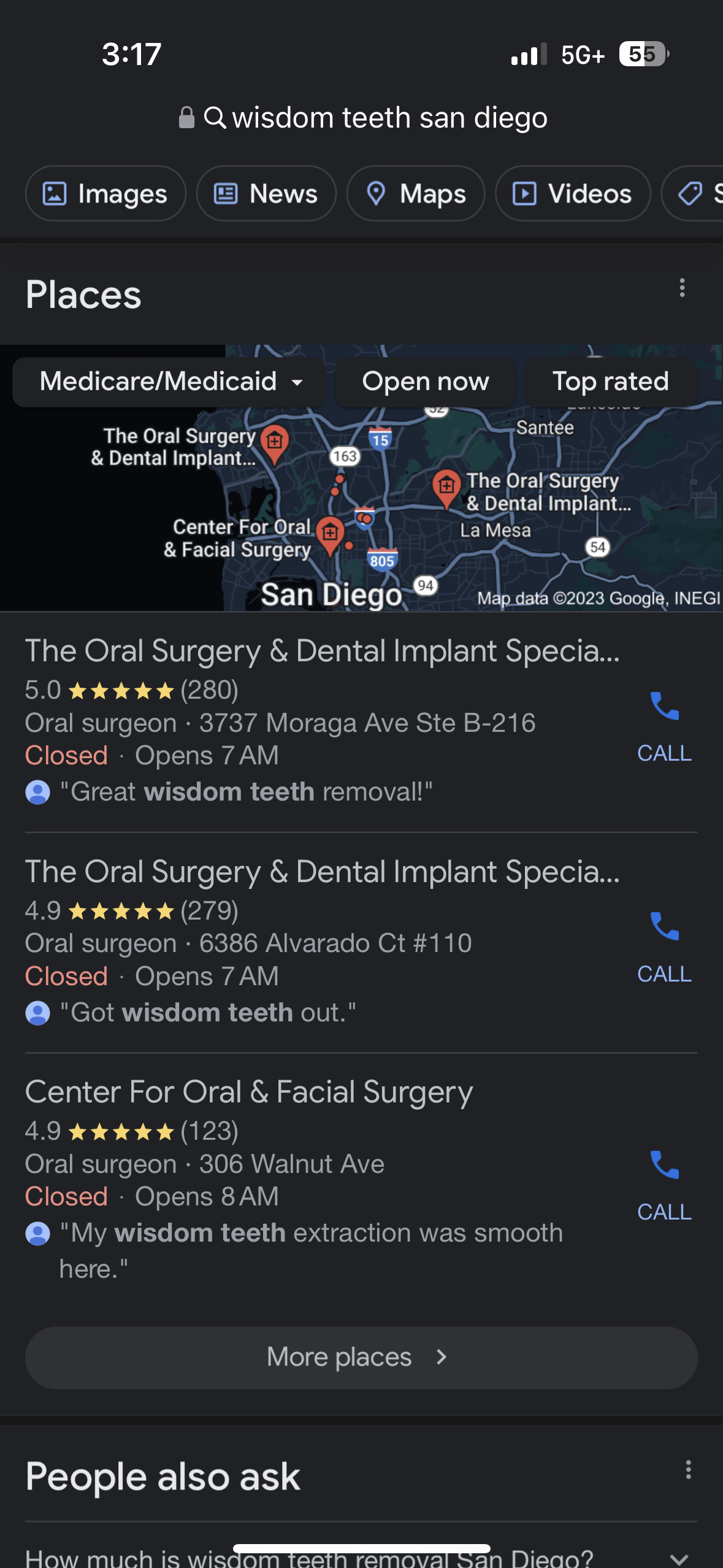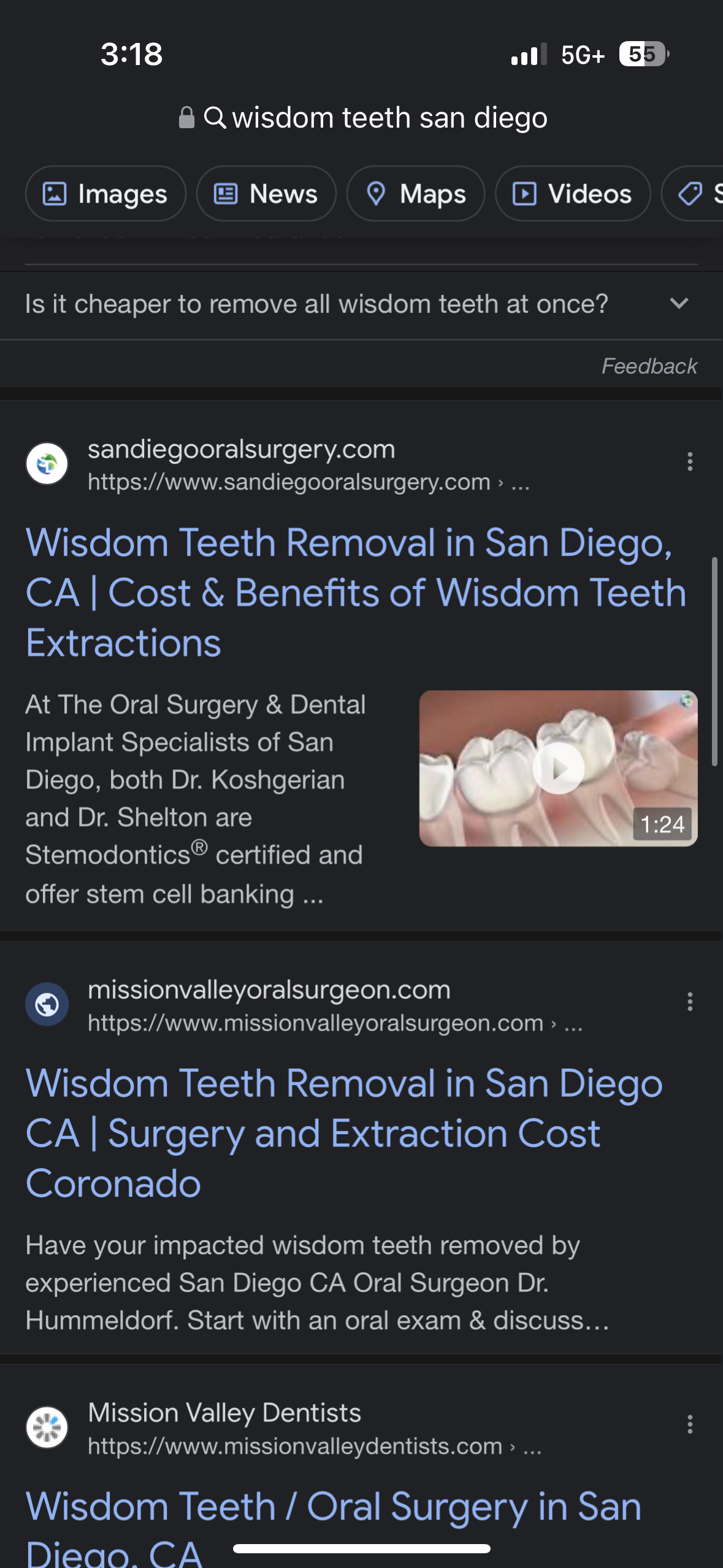 You guessed it: our client is dominating because they followed our advice and did everything we asked them to do. They are growing and buying practices. Keep in mind that practice consists of two docs and two locations that started in 2018, competing against practices that had been in the market for years!
Think that's a fluke? Look at Las Vegas: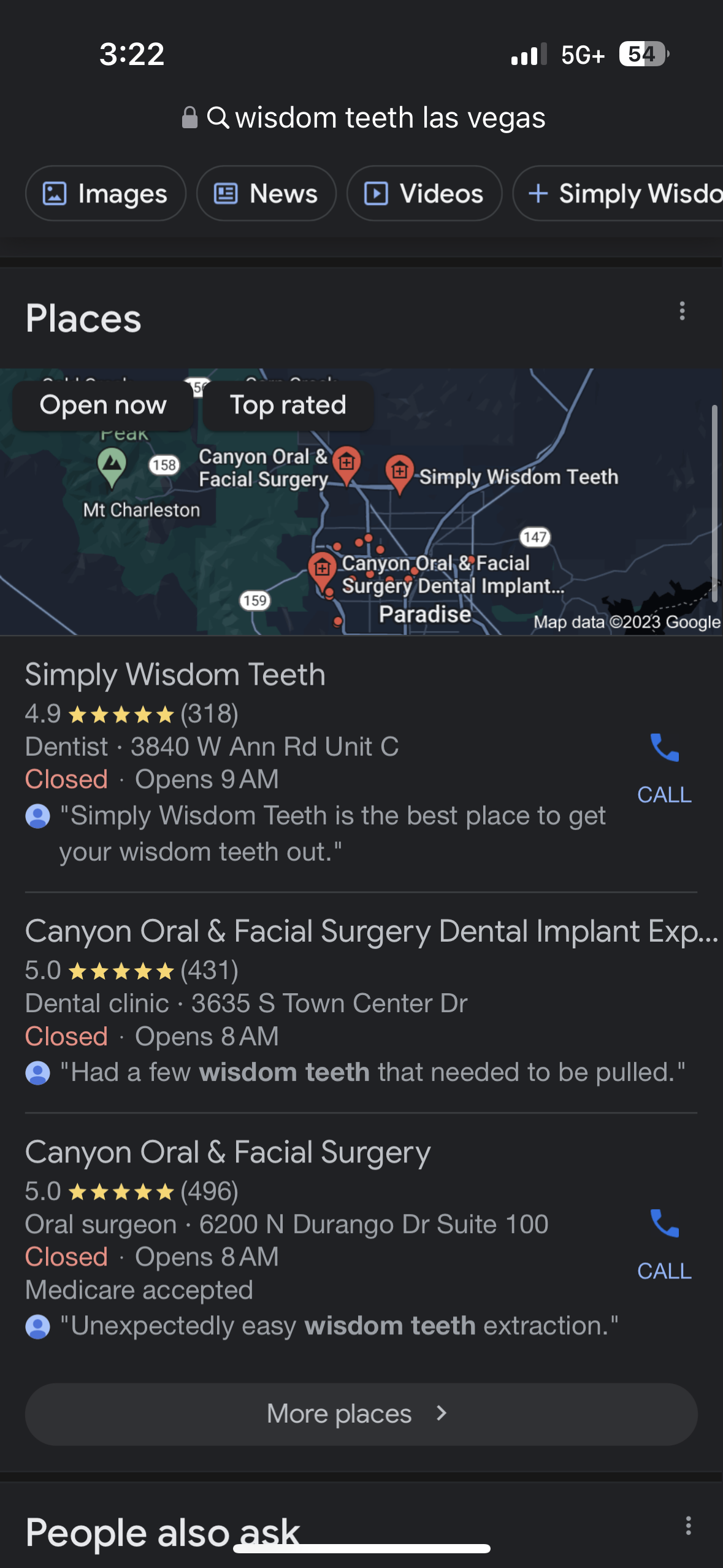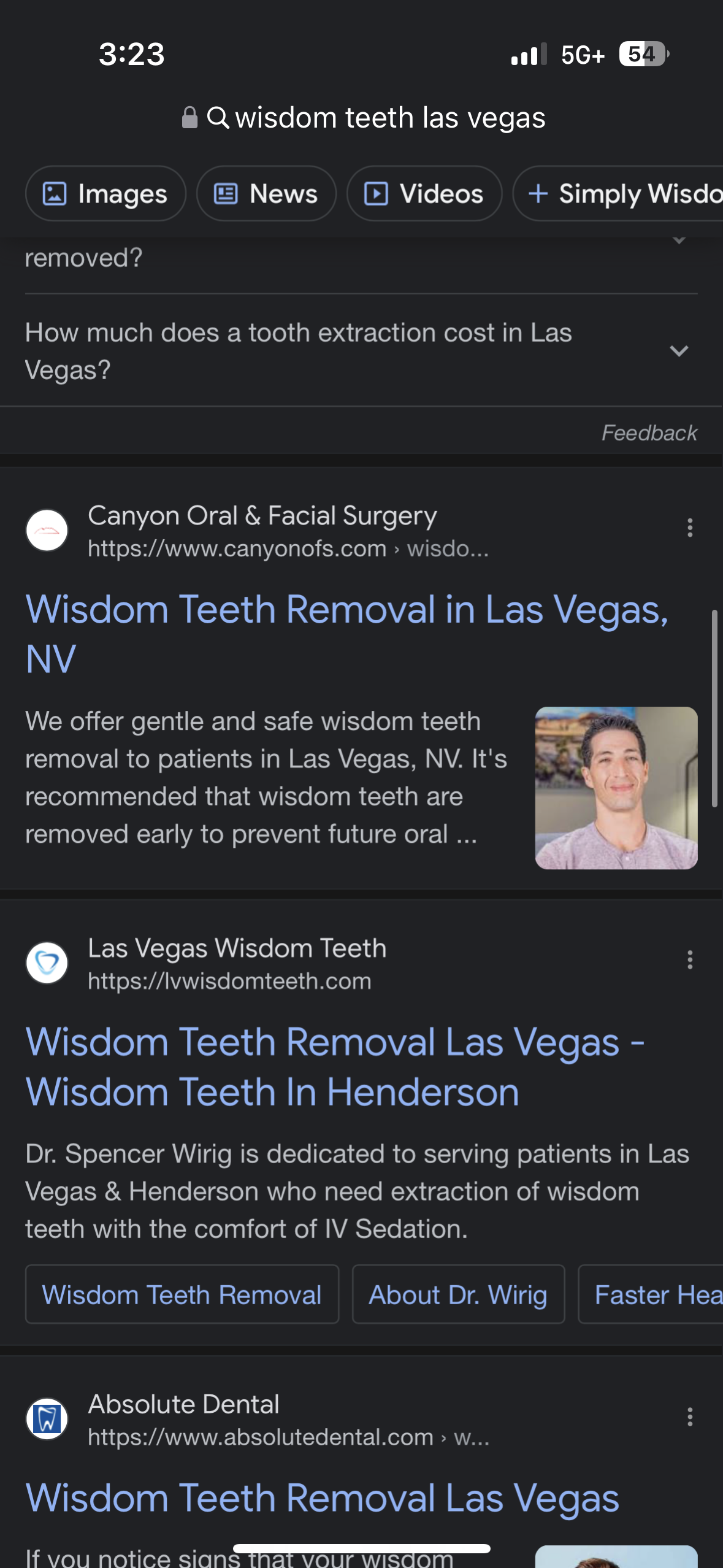 Again, this is a new practice that's competing against practices that have been in the market FOR YEARS before they arrived. They are opening their new location in Henderson, NV (a saturated market) in June!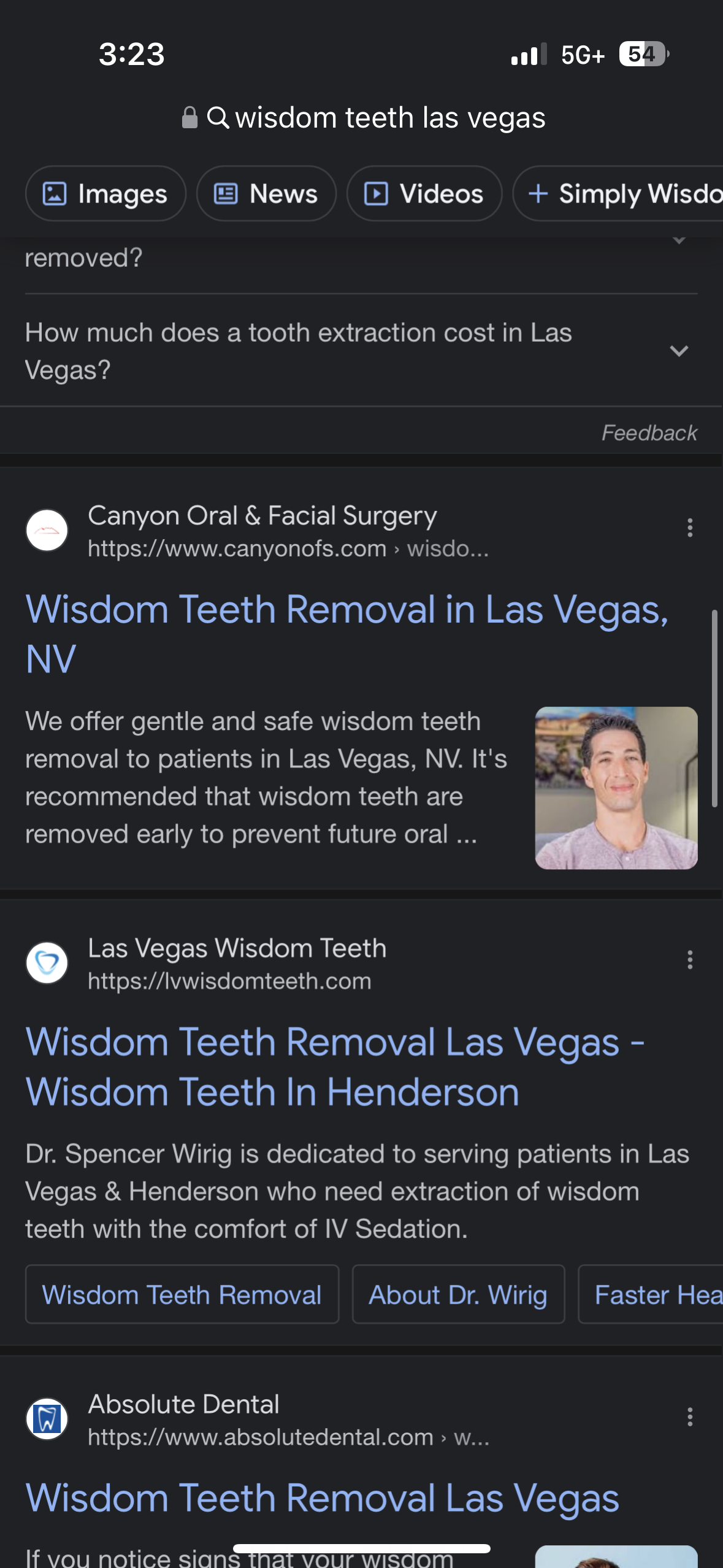 Think this is all a West Coast thing? Here's Ann Arbor, Michigan: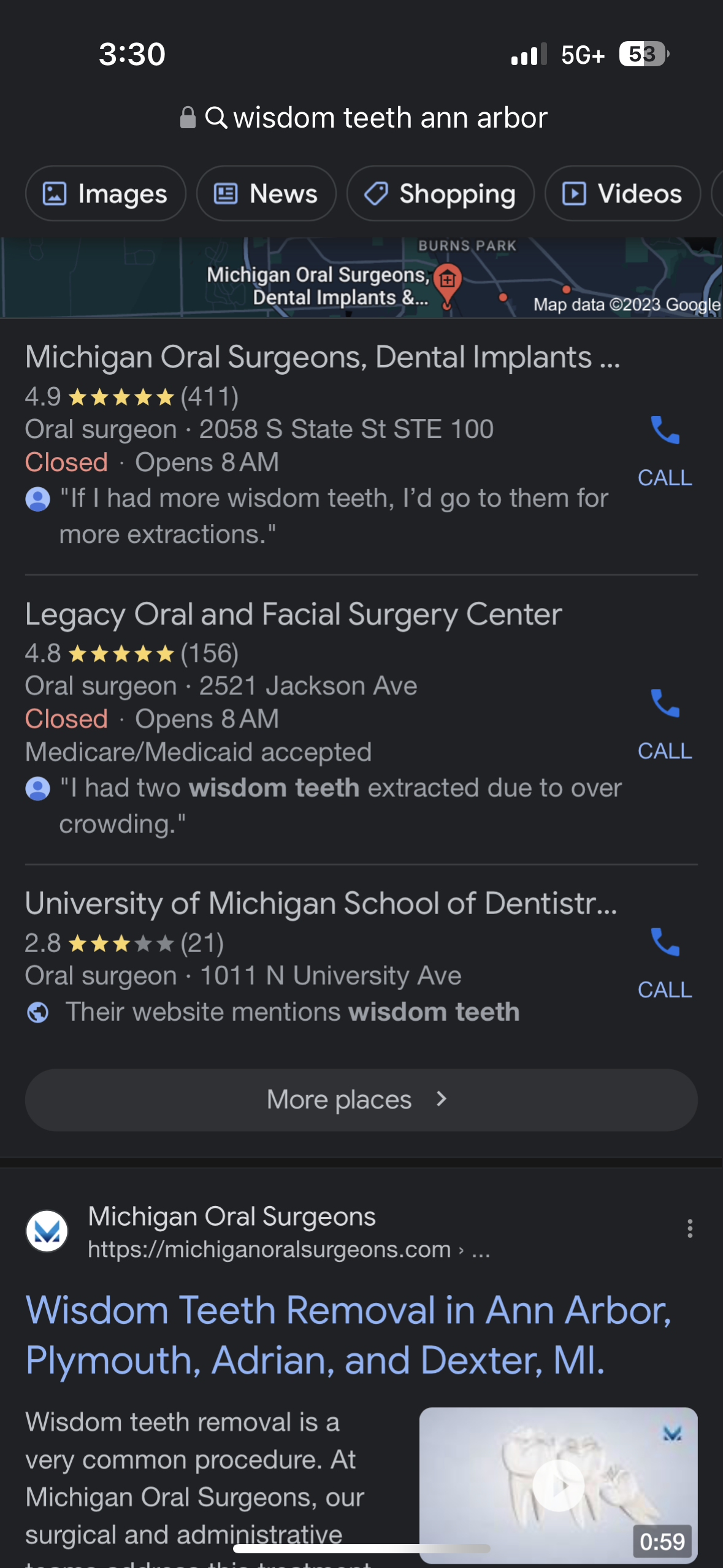 We have dominated that market since 2015. They are adding doctors and growing. 
Think that's a fluke? Let's look at New Jersey: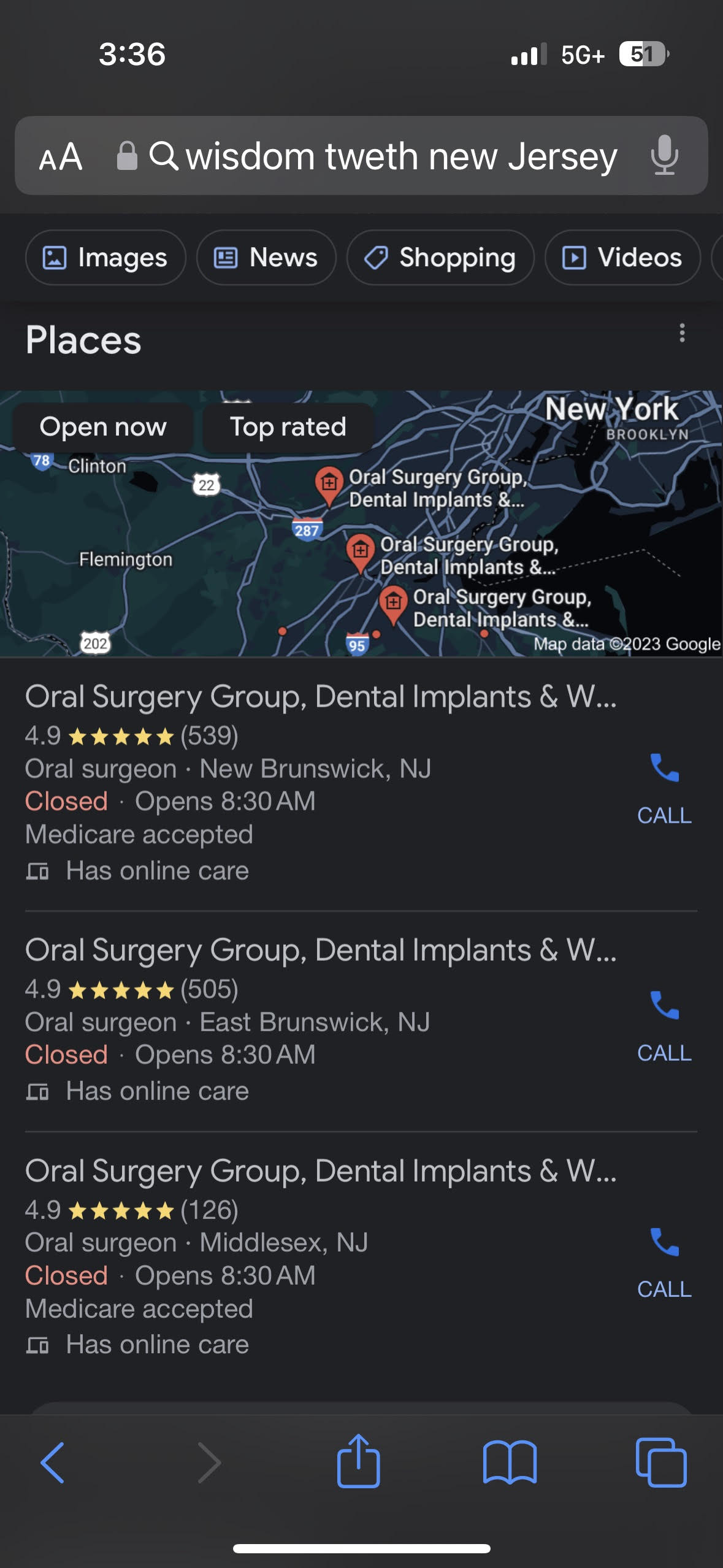 We own the map pack for the entire state! They have been clients since 2016. Absolutely dominating and growing. 
The long and short of it is that none of these practices have the spendy ad budgets many OMSs think they need to be successful… but they do have one thing: the Nuvolum formula. You need to have the right foundational assets of Nuvolum, WUWTA, and SIXSTAR in place to win like this. All of these clients use all three of our companies. That's what gives them the true competitive edge. 
People think this stuff is easy! It's not. It's a relentless pursuit of excellence. It's being able to say no when you know what a client wants to do is wrong. Why have we been so successful? All of those things and a whole lot more. Continuous innovation.
Watch this video:
Finally, I believe in you and I know that we can make you successful. But we can't build all the assets you need to win overnight. This is a critical point in the OMS market, and I urge you to position your practice for long-term success now. 
In just 5 minutes I can tell you how Nuvolum can help you and your practice achieve your goals.
You can book a 5-minute call with me by clicking here.
*Only three slots are available a day: 5 AM, 12 PM, or 5 PM (PST).
I look forward to hearing from you.
Best regards,
Jock