By Kate Hughes, MBA

Vice-President of Operations at Nuvolum
"Corporate culture is the only sustainable competitive advantage that is completely within the control of the entrepreneur. Develop a strong corporate culture first and foremost." — David Cummings, Co-founder of Pardot
When asked to describe a company's culture, it's not uncommon for business owners to say something like "We work hard, and we play hard," or to pause altogether to really think about how to best answer the question. 
Every company has a unique culture, and the way that you communicate that culture in both words and actions is critical to creating an environment where team members grow and thrive.
Whether you're struggling to get team members on the same page or looking to give your existing culture a facelift, these six tips will move you toward cohesion.
Determine what you want your culture to look like. Most business owners have an idea of what they want their company culture to be but, all too often, it's vague. Take the time to think about the values that are important and write them down. These values should direct your brand's mission and vision, and should be communicated regularly with your team during your daily or weekly huddles.
Ask your team questions. How would your staff describe the culture? It's important to go directly to the source. It can be as easy as having conversations in your meetings or sending out an anonymous survey. This will give you a new window of insight into the pulse of your business and areas where you can improve your approach.
Set the tone on day one. If you invited a guest to your house who was visiting for the first time, what impression would they have? Most of you would agree that you want your guest to feel welcome, comfortable, and happy to be there. The same concept applies for onboarding new hires. Make sure they feel settled and have all the tools, training, and guidance they need as soon as they walk through the door.
Empower employee success. Provide clear expectations for team member success and a clear path for growth that aligns with your company's vision. Each time you recognize a team member who is positively contributing toward those goals, you reinforce their alignment with your culture.
Embrace diversity. Diversity, equity, and inclusion are key tenets in today's business landscape for a reason. Every team member plays a critical role in bringing your culture to life. When you combine a base of shared values with a breadth of different perspectives, you can become an even stronger team where voices feel valued and heard.
Read your reviews! Spend time each week reading both your positive and negative reviews as a team. Use your positive reviews to reinforce the great service and results provided by your team. Use your negative reviews to initiate continuous improvement initiatives that can resolve the issue moving forward.
When you create a positive culture that radiates from the top down, you create a competitive advantage. A team that is aligned with your mission and feels empowered by the company's vision effectively positions your brand as one to stand behind.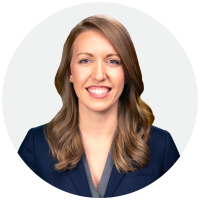 Kate Hughes is the Vice-President of Operations at Nuvolum and has worked with businesses nationwide to build high-performing teams, improve team communication, and create outstanding customer experiences. Kate holds an MBA from the UC Berkeley, Haas School of Business.